Sciath na Scol Final November 10th 2011
This story begins 2 months ago, back in September when we had no pitch to play on, a new school extension to deal with and only 5 footballs to our names! We weren't sure how the year was going to pan out for us with all these obstacles but nevertheless we started training in earnest. First came the lunch-time league, tough going considering this had to be played on the yard while the rest of the school played their lunch-time games around us! From the lunch-time league we could see that there was a good base of raw talent in the school, but it was clear that we were going to have to hone and nurture this talent if we were to win anything.
Luckily for us the boys from 3rd to 6th class were eager and willing to put the work in and so began the challenge matches. We played Glounthane twice before our first two Sciath na Scol group matches vs. Inch and Conna. Both games were played on the same day and both games were won well. From this superb start we went on to play and beat Shanagarry, Kinsale, and Whitegate. Our biggest challenge then came in the form of Passage, who we met up in Caherlag – a home match for us. Passage were fierce in that match. An extremely physical team, who could also play football. Scoil Inse Ratha were rattled that day, but their attitude and team-work once again paid off and we emerged bruised but victorious.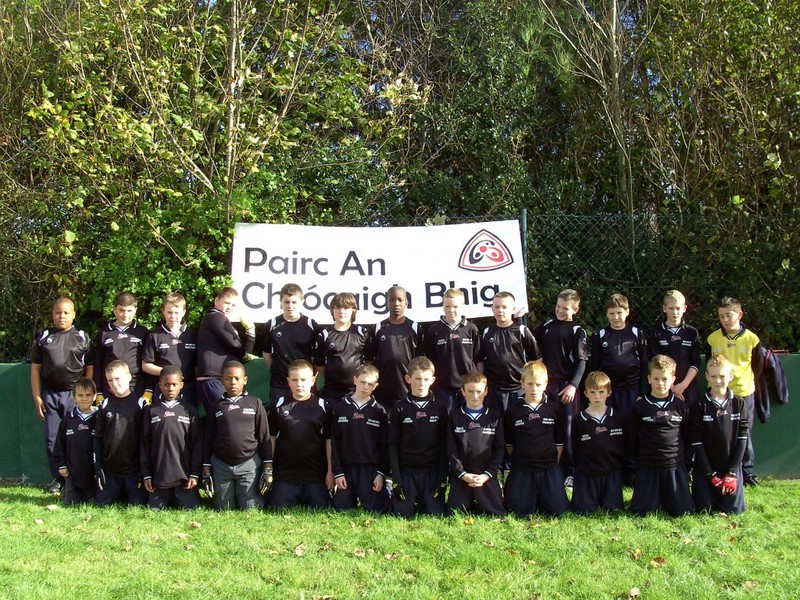 One match to go to the final and disaster strikes. A cold, miserable, wet and windy day, we had to travel to Eire Óg to play Farran to get into the final and we're down players (arising from matters I won't go into here!). We travelled to Farran on the bus a shadow of our former selves, our confidence had taken a knock. We were down players and we knew this was going to be a tough match. Our frame of mind couldn't have been worse. Conditions hadn't improved when we landed down to Eire Óg. It was decision time. We could respond in one of two ways: 1. We admit defeat right there and then; or 2. We play our hearts out and get into the final. We lined out and from the off it was clear the players had picked the second option. We left Eire Óg filthy dirty, wet, but smiling and thinking ahead to the training we must now do for the final in Páirc Uí Rinn.
On 10th of November 2011 Little Island Boys GAA team travelled to Páirc Uí Rinn to take on Passage in the Sciath na Scol final. We knew this was going to be a tough match after playing them in the group stage match and also from having seen them in their play-off against Farran to get to the final.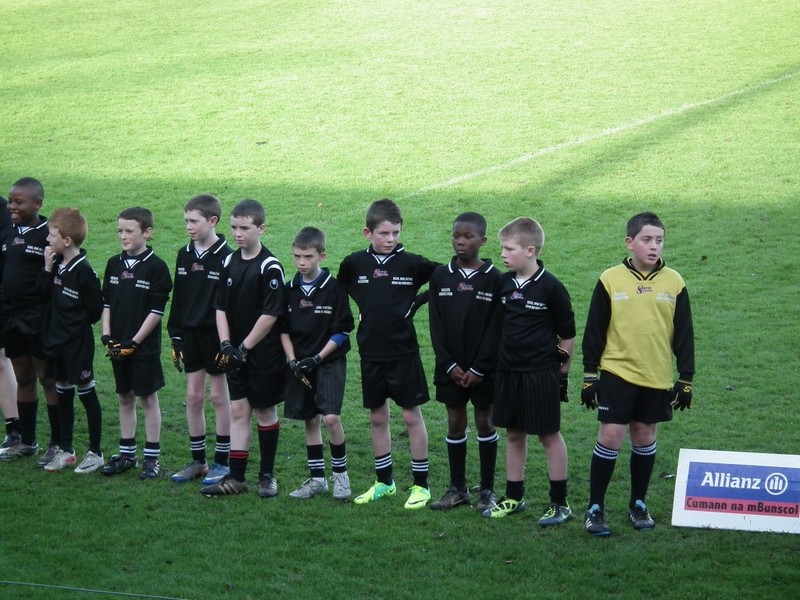 Scoil Inse Ratha were well prepared for this match with great turn-outs at training every lunch-time at school and also indeed over the mid-term break. Spirits were high in school but the nerves were detectable too, particularly on the day of the match when certain teachers had to move cars around in the car-park to ensure they were in their "lucky parking space"!
The team travelled to the match on board, the ever reliable, Delea's buses. Kieran as usual trying to lift the spirits of the lads, but nerves and excitement were beginning to grip some players at this point, so his efforts went un-noticed for the most part! When we arrived at Páirc Uí Rinn Passage girls were in the middle of their final and the noise from the Passage crowd was deafening. Little Island boys didn't notice this however, so focused were they on their own upcoming match.
The boys togged out, warmed up, and lined out in front of the stand where the cheers and chants from Little Island pupils and staff could be heard loud and clear! William Cogan, our captain, then went up to the referee for the toss and suddenly it was upon us. What our panel of 28 had been training for and looking forward to all year…the Sciath na Scol final!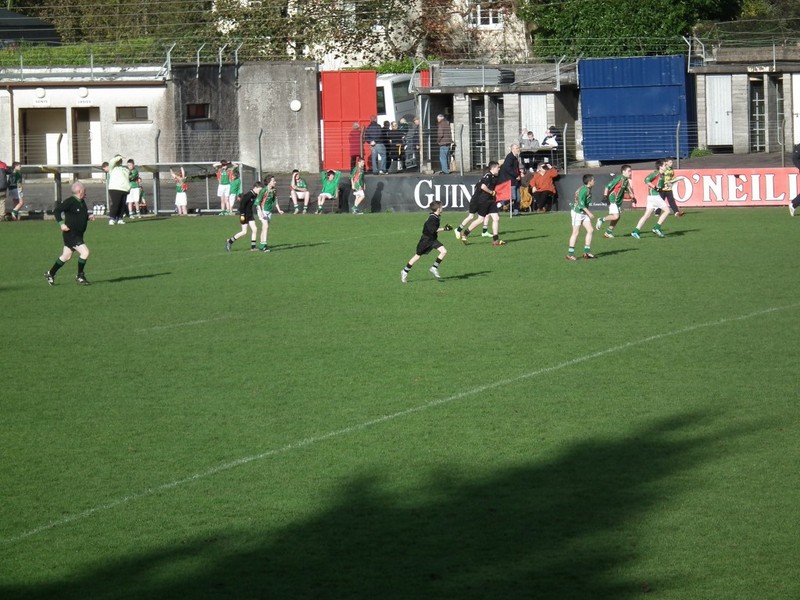 Little Island started fantastically with the ball won well at mid-field by Seán O'Connell and taken forward at pace. The first few minutes of the match were extremely tense with neither team giving an inch. Little Island scored first with a well taken point by the ever-skilful Jack Ford. Passage went looking for a point to level things up but fantastic work by Little Island backs, who worked tirelessly and selflessly throughout the entire match, prevented this from happening.
Great work from all our forwards, with exceptional skill from Jack Ford, vision from Kevin Cody, support  play from Nathan Galvin and instinct combined with positioning from Robert O'Connor saw Little Island go ahead at half-time, 2.3 to 0.0. This wasn't for the want of trying on Passage' part, let it be known, but intelligent defending from Dylan Stansfeld, bravery from William Cogan, man-marking and tackling from Scott Horgan and great tracking back from Lewis O'Mahony meant Passage had their work cut out. Not to mention the fantastic save our goalkeeper Simon Ainscough pulled off in the first half!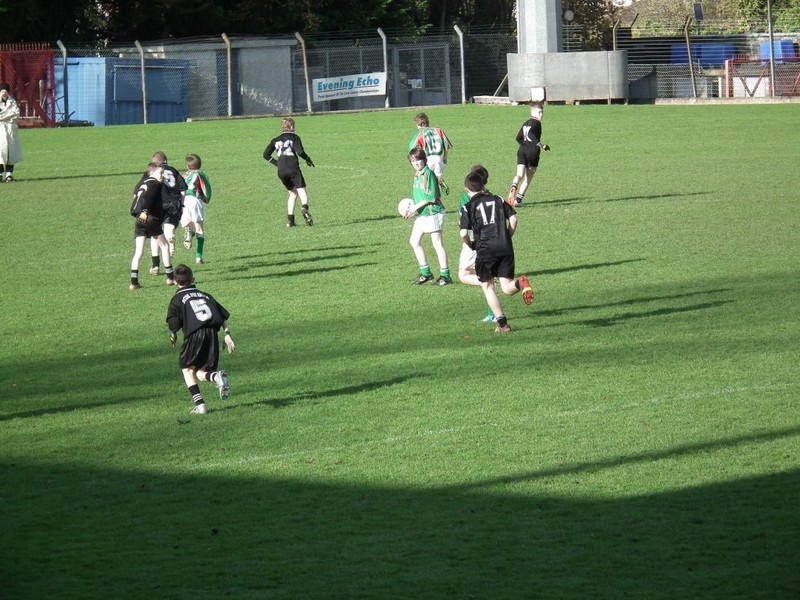 After a quick drink and team-talk at half-time there were 15mins to go…15mins to keep our nerve and stay focused on the job in hand. Once again our mid-field duo of Seán O'Connell and our vice-captain Alex Delea won the ball from the throw in and took on Passage from the off. We had told the lads to expect an onslaught from Passage, they were going to come out fighting and were bound to hit their purple patch at some stage in the second half. This, indeed, would have happened were it not for the fantastic work-rate and skill of Seán O'Connell and Alex Delea who both played stormers up and down the length of the field.
It was evident for all to see, during that second half, just how much Little Island wanted that cup. Perhaps it was the loss last year that drove them, maybe it was the loss of a certain school legend, but regardless the reason, Little Island boys were driven and focused that day. To see our forwards tracking back into mid-field and even the half-back line and helping out was one such example of this drive and focus. The last score of the game was scored by the impressive Seán O'Connell, which was a fitting end to a great match.
The final whistle sounded and the crowd went wild! Hugs, smiles and hand-shakes all round, we had done it! Little Island showed great sportsmanship and respect by lining up and clapping for Passage as they climbed the steps to receive their medals. Then, led by William Cogan and Alex Delea, Little Island went up to lift the cup and plaque and receive their medals.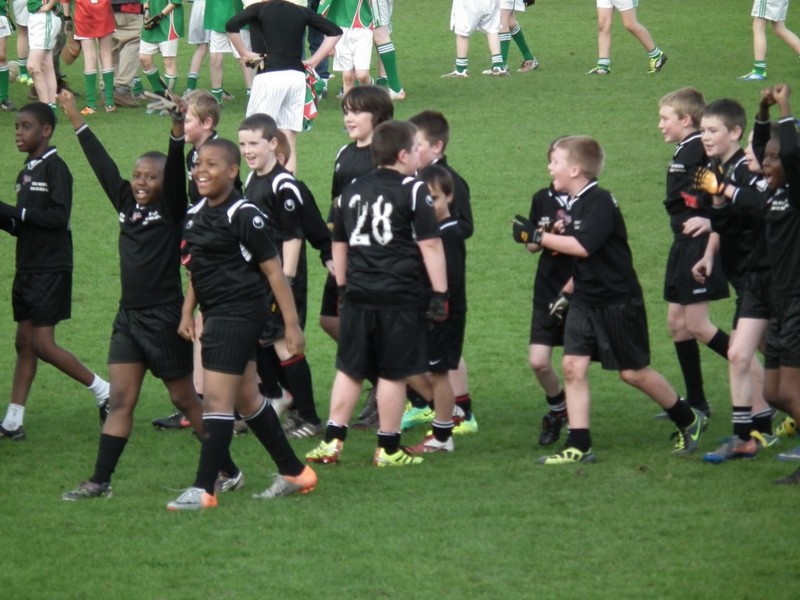 Regarding the skill and attitude of this fantastic team I have to mention the final goal scored in Páirc Uí Rinn. It was scored by Kevin Cody, and reminiscent of Eoin Mulligan's goal for Tyrone vs. Dublin in 2005. This to me was a prime example of the confidence and skill that was running through this team on the day of the final. Scott Horgan giving up his own game, in his usual spot of half-forward, to man-mark Passage' play-maker was an example of how selfless this team are and the attitude that was there on that day, for I know that any one of those players would have been willing to do the exact same thing.
These are merely two examples from the final of the depth of this panel however, I could wax lyrical about every single member of the Sciath na Scol panel, all 28 of them. For it was down to these 28 players that we got to and ended up winning the final that day. Each panel member played a part in this, be it in the group stage matches which began a the end of September, our training matches on the pitch at lunch-time or the challenge matches we played against Glounthane, Brooklodge and Knockraha.
So to conclude, a big well done to all involved in Sciath na Scol football this year. Now it's onwards and upwards, we've a Ribena Soccer Cup and a Sciath na Scol Hurling Cup to win 🙂