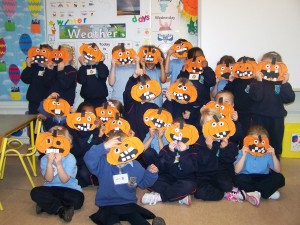 In preparation for Halloween, we made our own scary Halloween Pumpkins.
First we read the book "Pumpkin Soup" in our English class. Then we painted our own pumpkins and used black paint to paint funny shapes for the mouth.
When the paint was dry, we cut out the pumpkins ourselves, we cut out the eyes, mouths and teeth and then assembled our very own Halloween pumpkins. Then finally we used our pumpkins to create a very special pumpkin patch in our classroom!